Spinal Decompression in San Ramon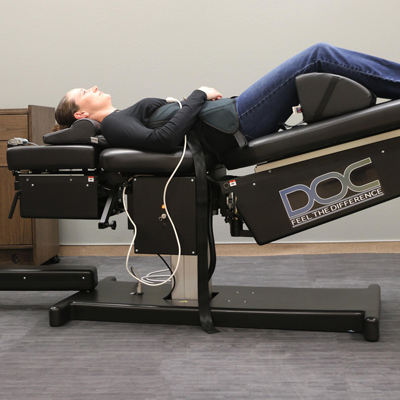 At San Ramon Chiropractic, we're proud to offer patients of all walks of life the care they need when they need it most, and sometimes that means going beyond adjustments and into other natural modalities to relieve pain and restore wellness.
That's why we offer care through the DOC Spinal Decompression table, a scientifically proven treatment for back pain, disc problems, and neck issues. In fact, recent research shows that it's effective in over 86% of patients. If you're battling stubborn pain and want to try a natural approach before considering more pain pills, surgery or injections, we'd love to help you understand how spinal decompression can help.
What Is It?
Spinal decompression is a non-surgical, drug free treatment that's effective when it comes to healing the discs in your spine. When you book a visit, you'll begin by relaxing on our comfortable, high-tech table–in fact, some patients find it so comfortable that they fall asleep during care.
After laying down, the machine begins to work its magic–that is–gently stretching and releasing your spinal bones to allow nutrients, water and oxygen to replenish.
This therapy may be ideal for individuals dealing with:
Chronic or acute back pain
Sciatica
Degenerative disc disease
Stenosis
Whiplash
And more
We're happy to report that spinal decompression is entirely pain free!
Frequently Asked Questions
Does insurance cover this treatment?
We accept most major PPO insurances. If you'd like to see if you're covered, our front desk will happily verify benefits for you.
Can it target specific injuries?
Yes! That's one of the best features of the advanced DOC table we have in the practice. For example, if you have an L4 injury, we can specifically target that vertebrae.
Are X-rays or MRI's necessary?
We offer onsite x-rays, and we'll let you know if that's necessary for your care. If you've already had imaging done, please bring them with you to your appointment so we can review them.
Each patient is unique, though we typically recommend 12-20 visits–spinal decompression is a journey, not a quick fix–and for good reason. Patients who commit to keeping up with their appointments have incredible results that are long lasting. After you're feeling better, we'll also provide you with exercises and stretches to keep your problem at bay and body strong.
Learn More Today
We'd love to welcome you into our care and help you unlock your true health potential naturally with spinal decompression.
Discover if it's right for you and book an appointment by contacting us today. We look forward to meeting you!
CONTACT US »

Spinal Decompression San Ramon, CA | (925) 828-0616