Our Services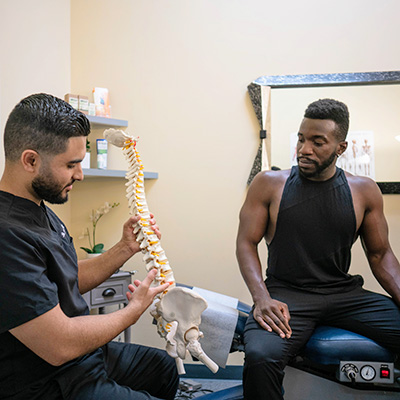 Helping our patients achieve and maintain optimal health is our passion at San Ramon Chiropractic. That's why we are pleased to offer a suite of natural healthcare services all under one roof.
Chiropractic Care: If you have interference in your nervous system your body won't be able to function at its peak. Using chiropractic adjustments, Dr. Miry will reduce that interference so your body can perform optimally. He uses an array of manual and instrument-assisted adjusting techniques including Cox Flexion-Distraction, Diversified, Activator Methods®, ArthroStim® and others. Read more about Chiropractic Care >>
Spinal Decompression: Spinal decompression is a non-surgical, drug free treatment that's effective when it comes to healing the discs in your spine. When you book a visit, you'll begin by relaxing on our comfortable, high-tech table–in fact, some patients find it so comfortable that they fall asleep during care. Read more about Spinal Decompression »
Auto Accidents: If you've been in an auto accident it's vital that you seek care as soon as possible. We know that when you're in an automobile accident it can be a stressful and confusing time. We understand what you're going through, and our goal is to make the process as simple as possible so we can get you out of pain as soon as possible. Read more about Auto Accidents>>
Low-Level Laser Therapy (LLLT): Cutting-edge laser therapy is highly effective in reducing pain and promoting healing. This painless and noninvasive therapy can address an array of issues such as sports injuries, muscle pain and other conditions. Read more about Low-Level Laser Therapy>>
Sports/Injury Rehab: Whether you're a weekend warrior or professional athlete, you can find the health care you need at San Ramon Chiropractic. As an athlete himself, Dr. Miry understands the unique needs that playing a sport can place on the body. Read more about Sports/Injury Rehab>>
Ideal Protein® Weight Loss: If you'd like to shed stubborn pounds, this medically designed and supervised weight loss program can help you achieve your weight loss goals. The average person loses about 8-10 pounds a month on this ketogenic-based program. Read more about Ideal Protein® Weight Loss>>
Massage Therapy: Not only does massage feel fantastic but it's an excellent way to relieve muscle pain, improve range of motion and much more. Our experienced massage therapists customize care to meet each patient's particular needs. Read more about Massage Therapy>>
Diagnostic Imaging: We have on-site digital X-ray imaging for those patients who need to have them taken. This type of diagnostic tool gives us a picture of the bones as well as if scar tissue or arthritis is present in any area. Read more about Diagnostic Imaging>>
Would you like to feel your best and look your best? We want to help. Contact our San Ramon practice today to book an appointment!

Our Services | (925) 828-0616